General Information
The current number of identified mpox cases can be found on Centers for Disease Control and Prevention (CDC) webpage. Based on the information about mpox in Delaware available at this time, risk to the public appears low.
At this time, national data suggest that gay, bisexual, and other men who have sex with men make up the majority of cases in the current mpox outbreak. However, anyone, regardless of sexual orientation or gender identity, who has been in close, personal contact with someone who has mpox, is at risk.
Questions about mpox?
Call the mpox hotline: 1-866-408-1899
Anyone who is deaf, hard of hearing, Deaf-Blind or speech disabled can contact DPH by dialing 7-1-1 first using specialized devices (i.e. TTY, TeleBraille, voice devices). The 7-1-1 service is free and to learn more about how it works, please visit delawarerelay.com.
Hours of Operation:
Monday – Friday from 8:30 a.m. to 4:30 p.m.
E-mail: DPHcall@delaware.gov
Resources
What You Need to Know
Mpox is a viral disease that can be spread between people and certain animals. The mpox virus is a part of the same family of viruses as the virus that causes smallpox.


What is mpox?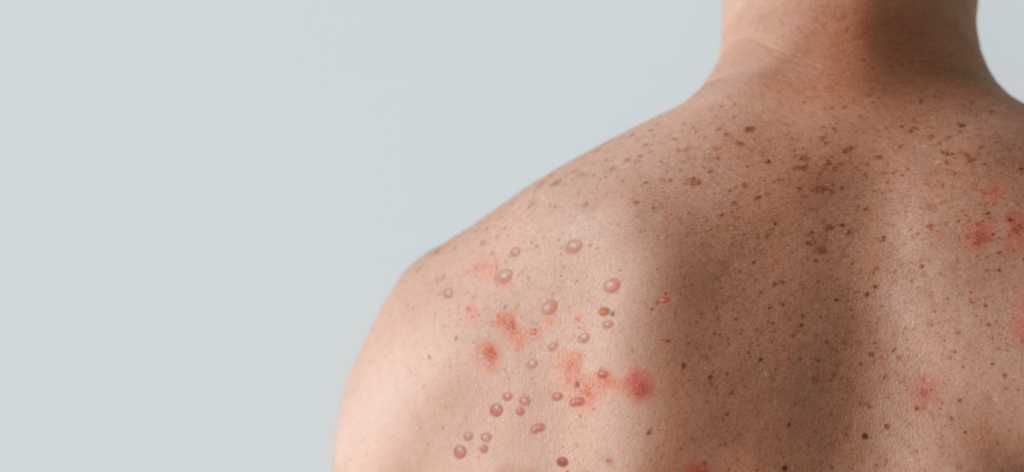 The first human case of mpox was recorded in 1970. Prior to the 2022 outbreak, mpox had been reported in people in several central and western African countries. Previously, almost all mpox cases in people outside of Africa were linked to international travel to countries where the disease commonly occurs or through imported animals. These cases occurred on multiple continents.

Transmission: How it Spreads
It can spread to anyone through close, personal, often skin-to-skin contact, including:

Contact with lesions
Body Fluids
Contaminated Materials
Respiratory Droplet
Direct contact with mpox rash, scabs, or body fluids from a person with mpox.

This direct contact can happen during intimate contact, as well as through hugging, massage, and kissing.

Contact with respiratory secretions.
A pregnant person can spread the virus to their fetus through the placenta.

It can spread by touching objects:

Fabrics, clothing, bedding, or towels
Surfaces that have been used by someone with mpox
Touching fabrics and objects during sex that were used by a person with mpox and that have not been disinfected, such as bedding, towels, fetish gear, and sex toys.

Exposure can happen during intimate contact, including:

Sex with a person with mpox
Hugging
Kissing

Having multiple or anonymous sex partners may increase your chances of exposure to mpox.
Signs & Symptoms

In humans, the symptoms of mpox are similar to but milder than the symptoms of smallpox. Mpox begins with fever, headache, muscle aches, and exhaustion. The main difference between symptoms of smallpox and mpox is that mpox causes lymph nodes to swell (lymphadenopathy) while smallpox does not. The incubation period (time from infection to symptoms) for mpox is usually seven to 14 days but can range from five to 21 days.
The illness begins with:
Fever
Headaches
Muscle aches
Backache
Sore throat
Chills
Exhaustion
Within one to three days (sometimes longer) after the appearance of fever, the patient develops a rash, often beginning on the face then spreading to other parts of the body. Lesions progress through the following stages before falling off:
Macules
Papules
Vesicles
Pustules
Scabs
What to Do if You Suspect an Infection
Call your doctor.
Ask about getting tested for mpox.

Wear a mask.
When visiting your doctor and to prevent the possible spread.


Get treated.
Smallpox antivirals may be prescribed.

Isolate.
Isolate until the rash has healed and a new layer of skin has formed.

Testing
If you have symptoms of mpox, or are concerned you may have been exposed, contact your health care provider to discuss testing. Don't have a health care provider? Contact mpox hotline at 1-866-408-1899 to discuss scheduling a testing appointment at a public health clinic. If you have symptoms of mpox, talk to your health care provider.

Treatment
Currently, there is no proven, safe treatment for mpox virus infection. For purposes of controlling a mpox outbreak in the United States, smallpox vaccine, antivirals, and vaccinia immune globulin (VIG) can be used. Learn more about smallpox vaccine, antivirals, and VIG treatments.
If you have symptoms of mpox, talk to your health care provider.
Vaccination
Currently, the Centers for Disease Control and Prevention is not encouraging vaccination against mpox for the broader public or for everyone who is sexually active. Delaware is currently offering vaccination to people at higher risk of exposure, including:
Persons known or presumed to be exposed to someone with mpox in the last 14 days
Certain individuals who have sex with men and who have had multiple sex partners within the past 14 days
Those living with HIV or who are receiving HIV PrEP
Immunocompromised persons (including those with cancer, solid organ or stem cell transplants, those taking immunosuppressive therapy, and individuals with autoimmune disease)
Those treated for a sexually transmitted infection (STI) in the last six months
Individuals traveling to an area with community spread of mpox cases.
Those engaging in high-risk activities, including sexual practices, that increase exposure to mpox, such as:

Gay, bisexual, and other men who have sex with men and have had multiple, or any, anonymous sexual partners in a social network experiencing mpox activity, this includes meeting partners through an online website, digital application ("app"), or social event (e.g., a bar or party)
Transgender women or nonbinary persons assigned male at birth who have sex with men
Sex workers (of any sexual orientation/gender)

Staff (of any sexual orientation/gender) at establishments where sexual activity occurs (e.g., bathhouses, saunas, sex clubs)
People who fall into any of the identified high-risk categories who are also experiencing homelessness or incarceration
People, particularly adolescent or young adult males, might consider waiting 4 weeks after mpox vaccination before receiving a COVID-19 vaccine, because of the unknown risk for myocarditis and/or pericarditis after JYNNEOS. The CDC is not recommending vaccination for the general public or for all sexually active persons. To reduce their risk of contracting or spreading mpox, individuals should limit direct contact with anyone with a concerning rash, limiting the number of intimate partners, talking openly with intimate contacts about recent behaviors, and not sharing bedding, towels and eating or drinking utensils with anyone who does.
It is important to understand that while there may be many persons in DE who want a mpox vaccine, not everyone in the population needs a mpox vaccine. This is very different from COVID. Spread is primarily through direct contact with an infected person and not airborne transmission. Vaccines are not recommended for children. There are things that people in the general public, as well as the LGTBQ+ community can do to protect themselves regardless of their ability to access vaccine such as limiting direct contact with anyone with a concerning rash, limiting the number of intimate partners, talking openly with intimate contacts about recent behaviors, and not sharing bedding, towels and eating or drinking utensils with anyone who does.

Where to Get Vaccinated
DPH Clinics
Call the DPH Hotline at 1-866-408-1899 to coordinate an over the phone screening evaluation, and to schedule an appointment with a public health clinic.
Beebe Health Care
Individuals can schedule an appointment at beebehealthcare.org/online-scheduling
Newark Urgent Care
Visit NewarkUrgentCare.org to schedule an appointment. Clinics are held on Thursdays.
Prevention

There are number of measures that can be taken to prevent infection with mpox virus:

Avoid close, skin-to-skin contact with people who have a rash that looks like mpox.
Do not touch the rash or scabs of a person with mpox.
Do not kiss, hug, cuddle or have sex with someone with mpox.
Avoid contact with objects and materials that a person with mpox has used.
Do not share eating utensils or cups with a person with mpox.
Do not handle or touch the bedding, towels, or clothing of a person with mpox.
Wash your hands often with soap and water or use an alcohol-based hand sanitizer, especially before eating or touching your face and after you use the bathroom.
Avoid contact with animals that could harbor the virus (including animals that are sick or that have been found dead in areas where mpox occurs).
Cleaning and Disinfecting for mpox
For homes and hospitality industry

Proper cleaning of all exposed items is essential following a case of mpox. Poxviruses can survive in linens, clothing and on surfaces. In one study, investigators found live virus 15 days after a patient's home was left unoccupied. Porous materials (bedding, clothing, etc.) may harbor live virus for longer periods of time than non-porous (plastic, glass, metal) surfaces. People who have recovered from mpox and whose isolation period has ended should disinfect all spaces within the home they had been in contact with. Follow the steps below to minimize risk of infection to others in your home after recovery.

Steps For Cleaning After An Infection
Wear protective clothing.
If cleaning and disinfection is done by someone other than the person with mpox, that person should wear, at a minimum, disposable medical gloves and a respirator or well fitting mask. Clothing that fully covers the skin should be worn, and immediately laundered. Wash hands with soap and water or use alcohol based hand sanitizer.

Disinfect.
Use an EPA recommended disinfectant. Focus on disinfecting items and surfaces that were in direct contact with the skin. Do not dry dust or sweep as this may spread infectious particles.

Wash and sanitize.
Wash sheets, blankets, clothes, and towels.

Delaware mpox Outbreak 2022 Data
Mpox Cases in Delaware
County
Positive Cases
New Castle
29
Kent
5
Sussex
9
Total
43
Age Group of Positive Cases in Delaware
Age
Positive Cases
0-17
0
18-34
24
35-49
16
50-64
3
65+
0
Gender Assigned at Birth of Positive Cases in Delaware
Gender
Positive Cases
Male
42
Female
1
Unknown
0
Mpox Vaccine Data in Delaware
Mpox Vaccine Information
Persons having received at least one dose of the vaccine
1,659
Vaccine vials received by Delaware Public Health
1,348
News
View more news on news.delaware.gov
Read more at news.delaware.gov